Bitcoin started getting back on track after an unsettled year. It recently crossed the $21,000 mark. Bitcoin price more than halved last year, and it caused a widepsread concern about the future of cryptocurrencies.
The sudden fall of FTX led to an alarming call to regulate the crypto market as it also damaged the industry's reputation. But the turbulent year has passed, and this new year has started showing bullish trends already.
Bitcoin price crosses $21,000 mark
Bitcoin price has crossed the $21K mark, and in the last few days, BTC price reached a three-month high. The market sentiments seems to be showing signs of recovery in the last few days.
It is important to consider that last year was a difficult year for the crypto market as Bitcoin price slumped by 65%. The bear market even shaked the faith of some crypto believers. Nevertheless, 2023 seems to have pumped the crypto market as signs of recovery appear on horizon.
Will BTC price keep surging?
Credible Crypto, a crypto analysis and educator, and a Bulliverse advisor tweeted that many people were caught off guard by the recent bitcoin price jump to $21,000 and are waiting for a dip to $18K to get on board.
In that tweet, he also predicted that the BTC may leave them behind and continue its bullish stretch to reach the $25,000 mark without facing any pullbacks.
Read his complete tweet: "While we are at local supply, $BTC is consolidating in a tight range on low time-frames. Funding has reset. Many caught off guard by the pump and waiting for a dip to 18k's to get on board- I think we probs leave them behind and continue up to 25k+ without any major pullbacks."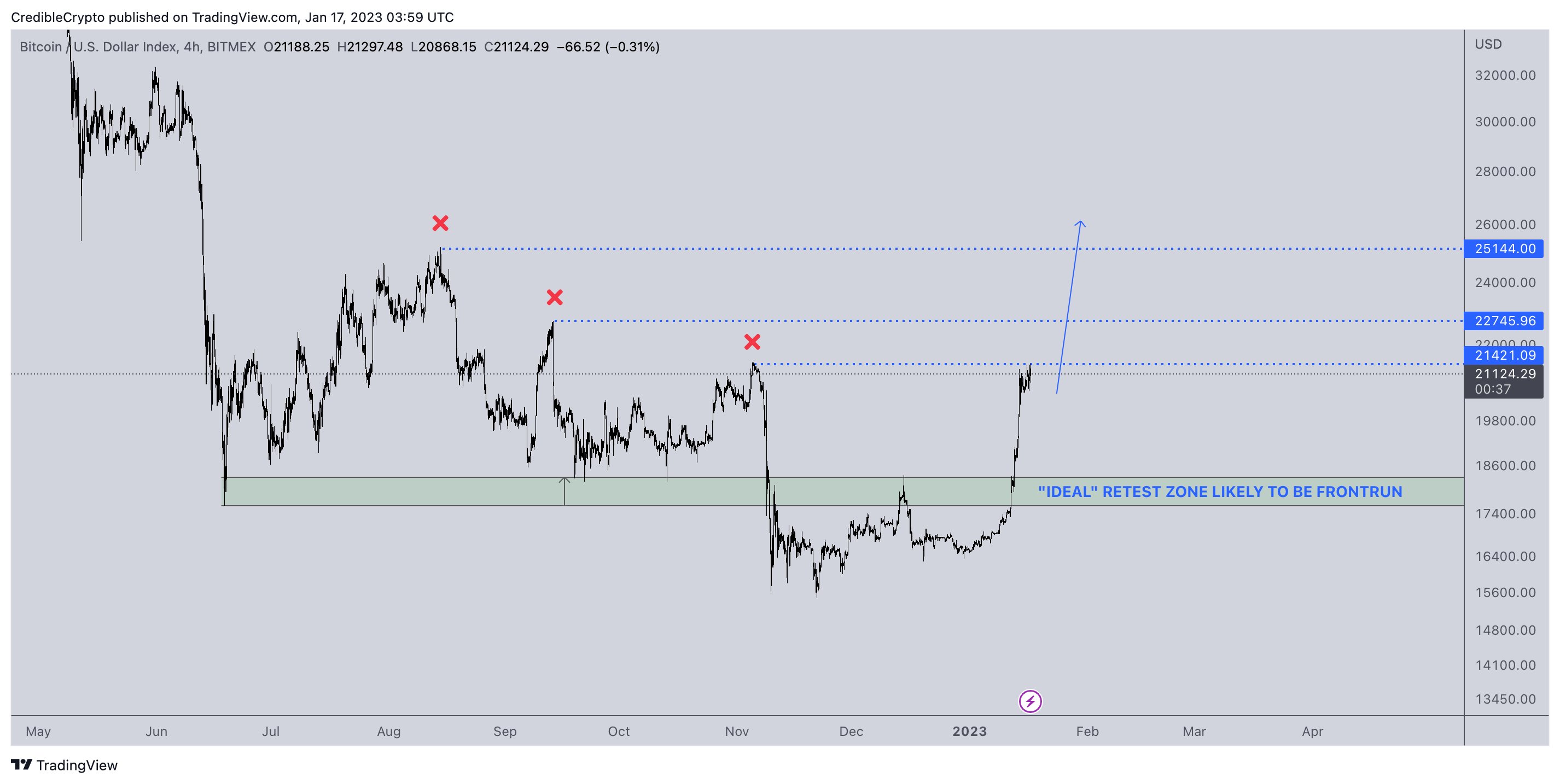 No need to mention that market sentiments were negative for quite a long time affecting people's perception of the market. Though, the market has started showing positive signs and people are ready to re-enter the market.
As per the market trends, the chances are high that the bitcoin price will continue to show upward trends.
The presented content may include the personal opinion of the author and is subject to market condition. Do your market research before investing in cryptocurrencies. The author or the publication does not hold any responsibility for your personal financial loss.