The Polkadot price has been on a downtrend ever since the beginning of August. The coin has pierced through several price floors in that duration. In the past 24 hours, the coin has lost 1.6%. In the last week, DOT sustained double-digit losses.
At this moment, DOT has again resumed its lateral trading, but signs point towards the coin losing further momentum. The technical outlook depicts that the bears have taken over the market completely. The altcoin was undervalued as it was oversold on the chart.
The demand for DOT had completely faded, which resulted in less accumulation. As DOT continued to lose value over the past several months, investor interest faded, which also resulted in the shorting of the altcoin.
Presently, the Polkadot price is sandwiched between the $4.60 and $4.30 price levels, and going by the technicals, DOT is eyeing a fall below the $4.30 mark before it starts correcting itself. At press time, the Polkadot price was trading 91% below its all-time high secured in 2021.
Polkadot Price Analysis: One-Day Chart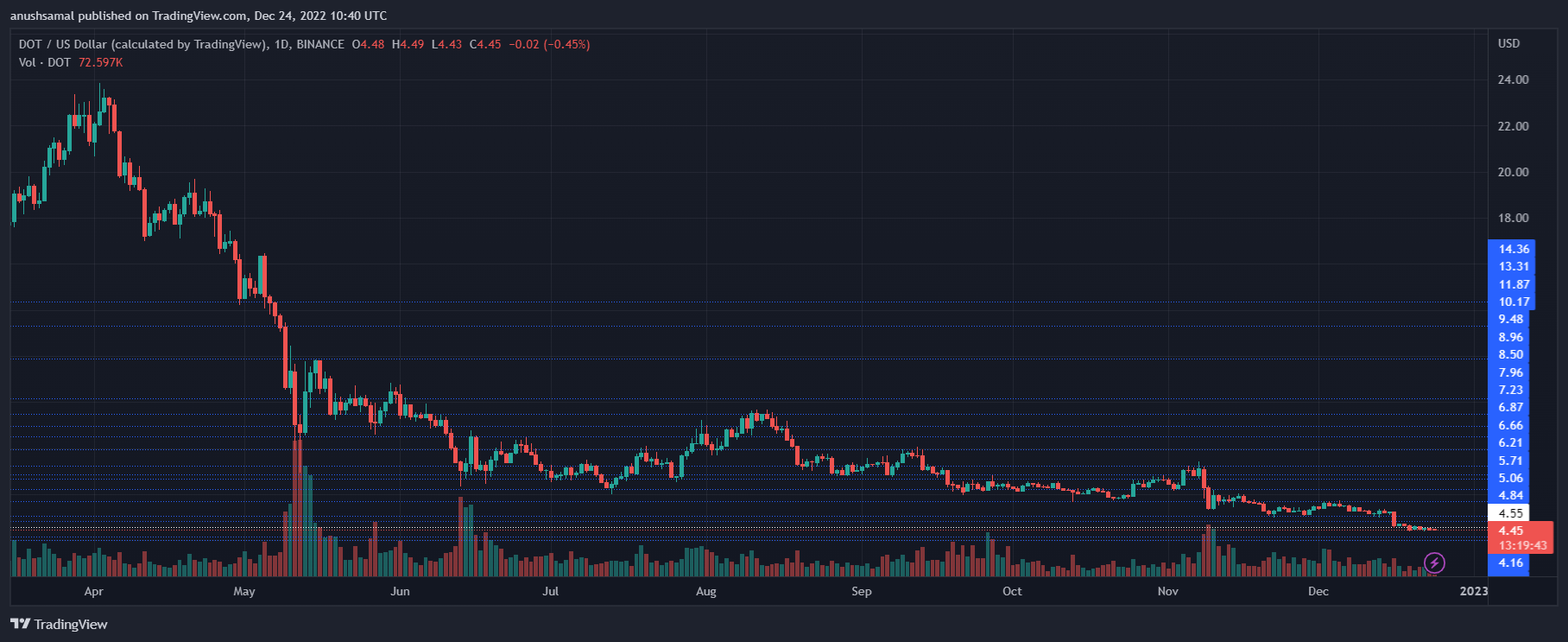 DOT was trading at $4.50 at the time of writing. The coin has recently lost a $5.06 support line, and since then, Polkadot price has been consolidating. Continued consolidation will see a further loss of value because sellers will lose interest in the asset again.
Overhead resistance for the coin stood at $5 and then at $5.71. If the altcoin moves above the $5.71 price level, the chances of Polkadot price revisiting the $6 zone increase.
On the other hand, due to a lack of demand, the coin will inevitably fall below the $4.30 level and sit at $4.16. The amount of DOT traded in the last session remained low, signifying bearish strength.
Technical Analysis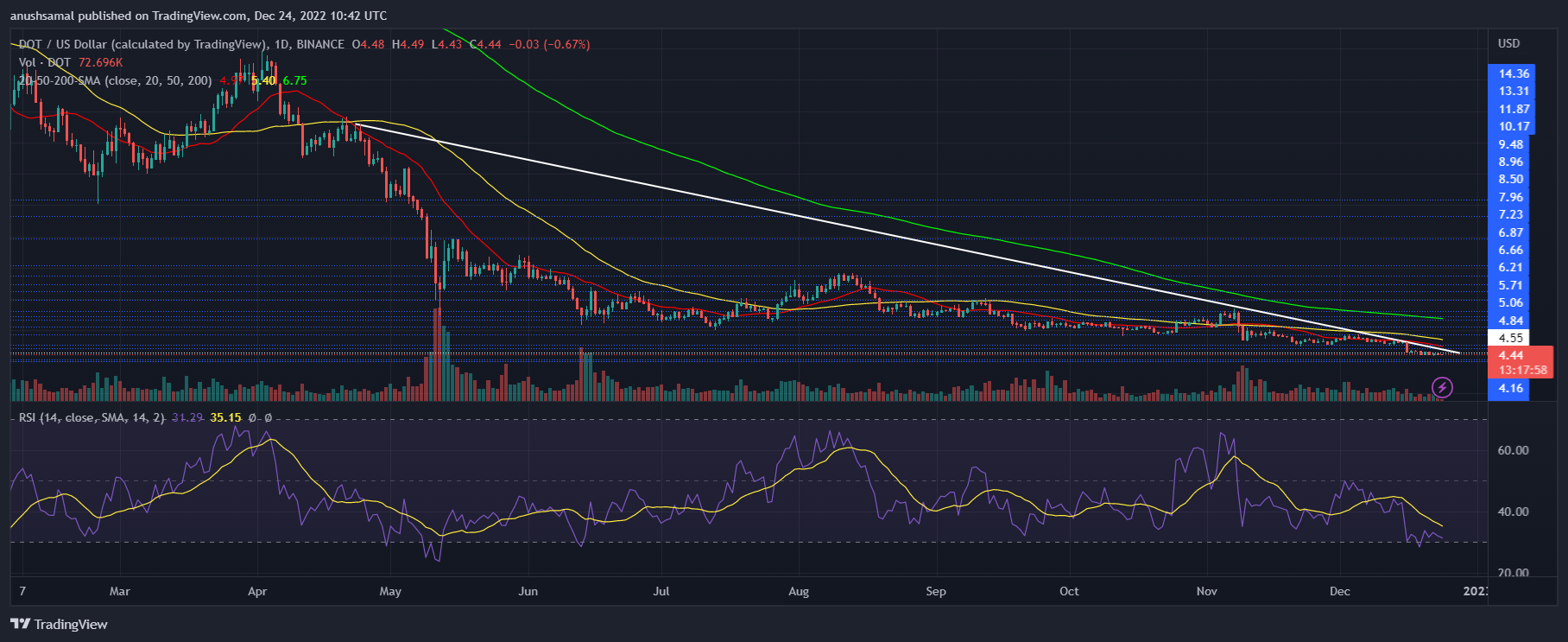 The altcoin was mostly under considerable selling pressure for most of this month. Over the last week, it was hovering around the oversold territory. The Relative Strength Index was near the 20-mark which signifies heavily oversold tendencies and it means that the bears have completely taken over the market.
The same idea reflects in the other indicator. DOT price was below the 20-mark which meant that the sellers were driving the price momentum in the market.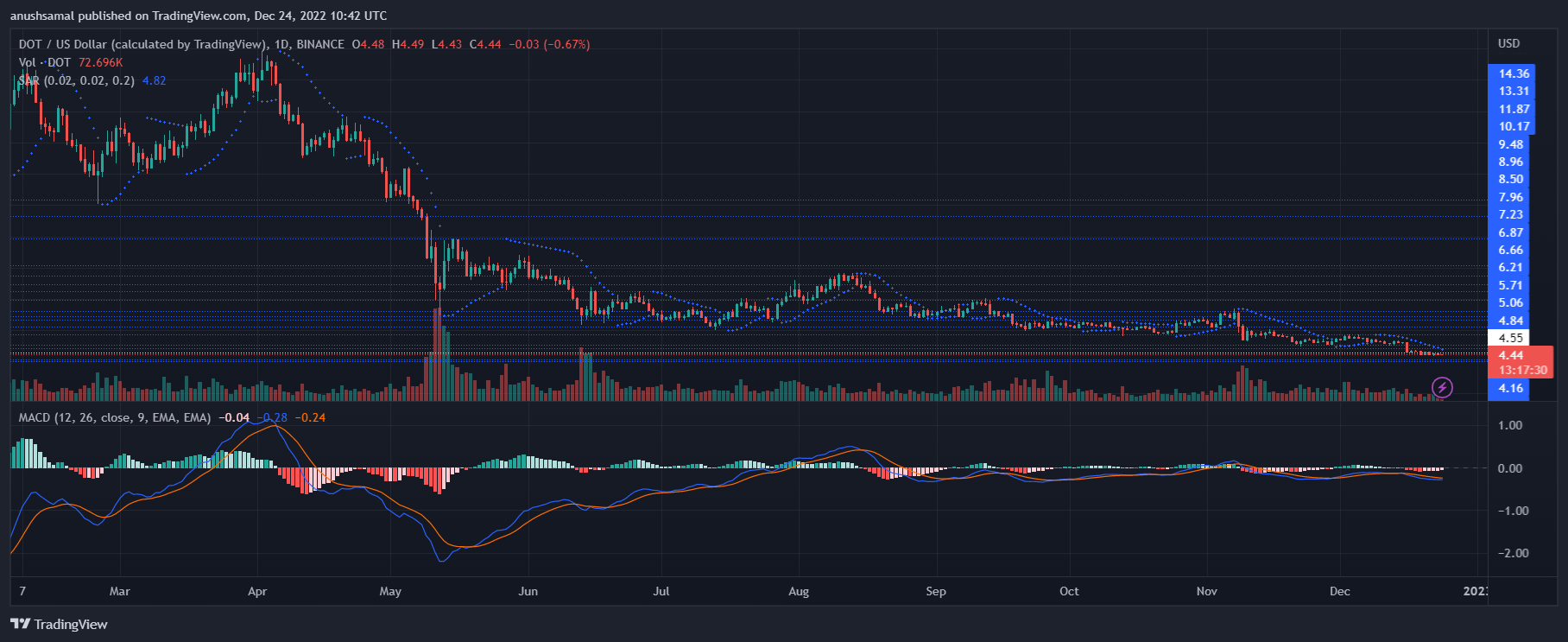 The coin confirmed that sellers had taken over the market momentum. The Moving Average Convergence Divergence (MACD) indicates market momentum and trend reversals. MACD displayed red histograms, which were the sell signal for the altcoin.
Parabolic SAR portrays the price direction; dotted lines were above the price, which signified bearishness and a lack of strength in the current price direction. If DOT has to overturn the bearish outlook, the coin has to move above the $5.06 resistance line.
Featured Image From UnSplash, Charts From TradingView.com