On-chain data shows the Bitcoin miner selling power has plunged recently, a sign that could be positive for the crypto's price.
Bitcoin Miner Selling Power Has Plummeted In Recent Days
As pointed out by an analyst in a CryptoQuant post, there has been less selling pressure from the miners recently. There are two relevant indicators here, the miner supply and the miner outflow. The first of these, the miner supply, is simply a measure of the total amount of Bitcoin currently sitting in the wallets of miners.
The other one, the miner outflow, is a metric that keeps track of the total number of coins that miners are transferring out of their supply at the moment. Now, the "miner selling power" is defined as this miner outflow divided by the miner supply (30-day moving average, log-scaled).
When the value of this indicator is high, it means miners are transferring out large amounts compared to their total supply right now. Since miners usually take out their BTC for dumping purposes, this trend can be bearish for the value of the crypto. On the other hand, low values suggest miners are spending relatively little amounts currently.
The below chart shows the trend in the Bitcoin miner selling power over the last few years:
The value of the metric seems to have taken a plunge in recent days | Source: CryptoQuant
As the above graph displays, whenever the Bitcoin miner selling power has reached high values and set a local peak, the price of the crypto has seen some downtrend. This trend makes sense as highs in the metric suggest increased selling pressure from these chain validators.
Recently, the indicator again showed such a formation, and BTC reacted with a decline this time as well, as its price went from more than $18,000 to the current $16,000 level. However, since this recent peak, the miner selling power has been rapidly going down and has now set a new low.
This muted selling pressure from miners may not necessarily be bullish by itself, but it does mean that if Bitcoin shows any bullish momentum now, miners wouldn't provide any impedance to it for the time being.
An interesting long-term trend to notice in the miner selling power chart is that the metric has been on an overall downtrend in the last five years or so. This means that over time, miners have been selling lesser and lesser BTC compared to their reserves, suggesting that they have been accumulating and growing their supply instead.
BTC Price
At the time of writing, Bitcoin's price floats around $16,800, up 1% in the last week.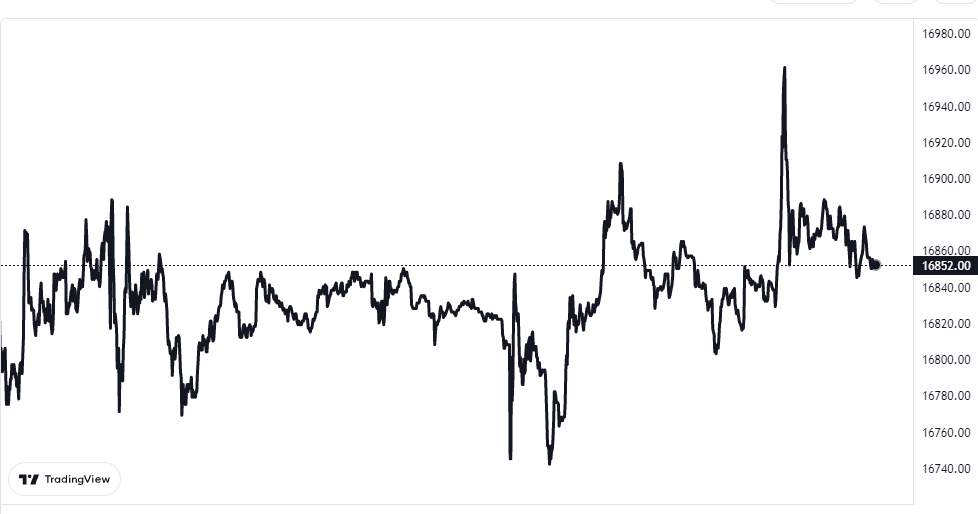 BTC continues to display boring price action | Source: BTCUSD on TradingView
Featured image from Jievani Weerasinghe on Unsplash.com, charts from TradingView.com, CryptoQuant.com