Bitcoin is back to its crab-like price action as macroeconomic forces fight with new developments in the crypto industry. The number one crypto by market cap has seen one of its bloodiest years, but it maintains a positive outlook for 2023. 
As of this writing, Bitcoin (BTC) trades at $16,800 with sideways movement in the last 24 hours. On higher timeframes, the cryptocurrency records some losses as it was rejected from the 50-Day Simple Moving Average (SMA) at around $17,800. 
Bitcoin Will See Better Days In 2023
Per a recent report from Coinbase, Bitcoin has been resilient in the current market turmoil. Despite the U.S. Federal Reserve (Fed) hiking interest rates, a high inflation environment, and the collapse of major companies in the crypto ecosystem, BTC: 
(…) remains one of the primary reserve currencies of the crypto economy. This became evident several times during the year when overleveraged players throughout the market – CeFi lenders, hedge funds, and venture capital (VC) funds – became forced sellers.
Bitcoin's capacity to withstand the collapse of these companies and entities, including some of the largest BTC miners, indicates its "long-term success." Regardless of these events, Coinbase claims that BTC continued to see adoption and traction in 2022. 
Bitcoin outperformed some of the world's major currencies in the macroeconomic landscape. As seen in the chart below, the BTC price saw a better performance than the Euro (EUR) and the Japanese Yen (JPY) in 2022.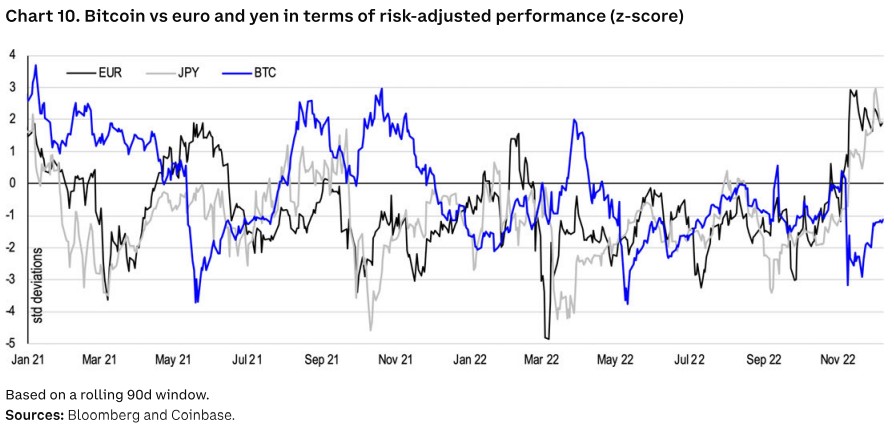 This performance strengthens BTC's long-term bullish thesis and its vital role as a global asset, according to the report: 
(…) the value proposition for bitcoin has only strengthened this year as sovereign currencies around the world have shown signs of stress and central banks continue to grapple with policy credibility.
BTC Hits Critical Milestone
Comparing BTC's current price performance and fundamentals, Coinbase determined that many Bitcoin holders are at a loss. Around 50% of BTC investors are in the red, which could provide a solid base for a macro market bottom.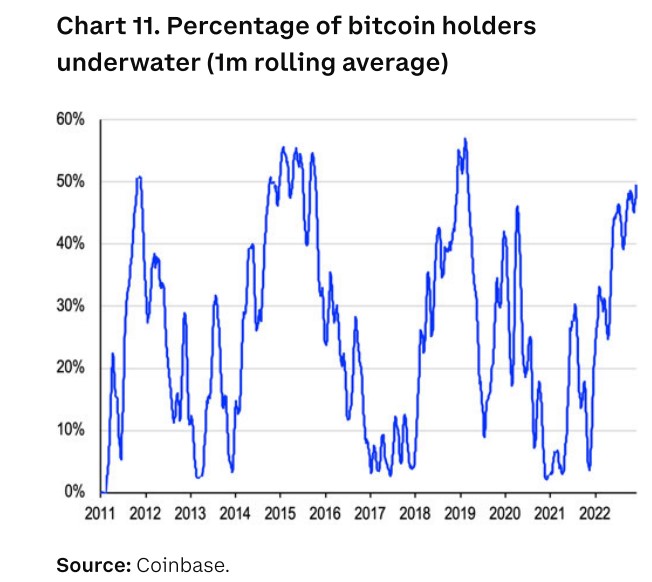 In previous bear markets, this percentage reached an average of 53% of Bitcoin holders at a loss. In that sense, BTC and the crypto market could be heading for an "inflection point," according to the report:
These represent major inflection points for BTC performance, preceding subsequent periods of price appreciation, we believe this metric provides important insights into current cycle positioning.