The on-chain data for the stablecoin redemptions during the recent price plunge could suggest there aren't many Bitcoin holders selling anymore.
Stablecoin Redeem Count Has Remained Low Recently
As pointed out by an analyst in a CryptoQuant post, large stablecoin redemptions have usually accompanied major declines in the Bitcoin price during this bear market. A stablecoin is said to be "redeemed" when an investor exchanges the token for fiat through the issuer of said coin.
Investors usually use stablecoins when they want to escape the volatility associated with tokens like Bitcoin. Thus, redemptions of them can be a sign that investors are exiting the market currently. The "stablecoins redeemed supply" is an indicator that measures the total amount of such redemptions happening across the market of all types of stables.
Another metric that keeps track of these withdrawals is the "stablecoins redeem event count," which, as its name already implies, measures the total number of redemptions taking place in the market rather than the total sum of their value.
Now, here is a chart that shows the trend in both these stablecoin redemptions indicators over the past year:
Looks like only one of these metrics had its value elevated in recent days | Source: CryptoQuant
As the above graph displays, during the large declines in the price of Bitcoin in this bear market so far, the stablecoins redeemed supply has usually registered high values. This trend makes sense as investors would be converting to stables to sell off during the crash, and then redeeming them for fiat.
The stablecoin redeem count also observed spikes during such dumping events, except for the most recent one. This implies that in the price plunges before the latest one, many investors always took part in stablecoin redemptions, showing that the market had a uniform and more natural selling appetite.
In the most recent decline where Bitcoin went from above $18k to below $17k, however, the redeemed count has stayed low while the redeemed supply has still observed very high values. This means that only a few whales were involved in this dumping event, a possible sign that largescale selling pressure may be getting depleted in the market.
BTC Price
At the time of writing, Bitcoin's price floats around $16,800, up 1% in the last seven days. Over the past month, the crypto has gained 2% in value.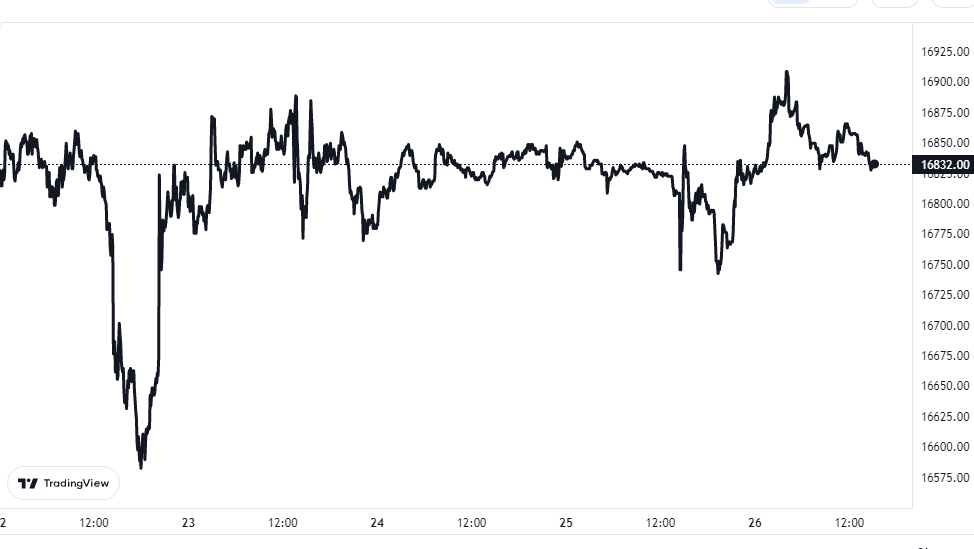 The price of the coin seems to have not shown any significant deviations in the last few days | Source: BTCUSD on TradingView
Featured image from Dmitry Demidko on Unsplash.com, charts from TradingView.com, CryptoQuant.com